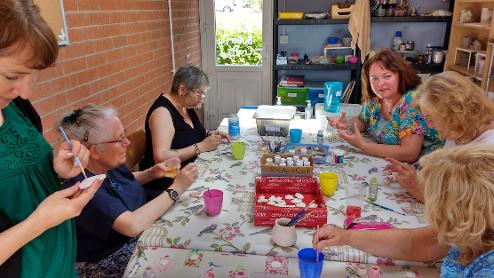 Tariffs for workshops
Beginners/Improvers


Book & pay at least 7 days before session:
1 session: £15.00
2-6 sessions: £14 each
7-10 sessions: £12.50 each
Sessions bought are to be used within 3 months of purchase.

Last minute booking: £17.00 each, book 6 days or less before session, pay on the day.

You will learn various hand-building techniques (pinching, modelling, slabbing, coiling) and make items such as a poppy, hanging ornaments, an owl, a tea-light holder, a snowman, a vase etc. Please note no potter's wheel is available.

Minimum 2 sessions recommended (1 making, 1 glazing).

More advanced potters also welcome, please get in touch.

Days and Times of classes
Wednesday 1pm - 3pm and 7.15 - 9.15pm
Friday 10 - 12pm and 2 - 4pm

GROUPS' sessions
2 hours during a Weekend or a Thursday.

2 people: £28.00, 3 people: £42.00, 4 people: £56.00 All inclusive except glazing & glaze firing.

CHILDREN's sessions

A shorter session, mostly aimed at children under 9 (each child to be accompanied by an adult helper). Older children 9 -14 to be accompanied by at least one participating adult.


90 minutes during a Weekend or a Thursday

2 people: £22.00, 3 people: £32.00, 4 people: £42.00.
All inclusive except glazing & glaze firing. Free for adult helpers. Maximum 2 helpers.

Please do not hesitate to contact me if you require more information.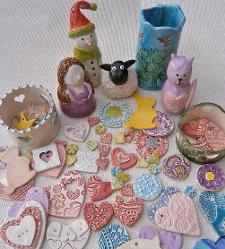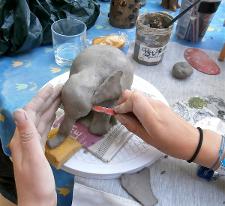 Arts and Crafts Sessions (2 hours)
All inclusive, light refreshments provided

Needle felted sheep - £12.00
Needle Felted Jewellery - £12.00
Iris folding (papercraft) - £12.00
Glass Fusing (pendant or brooch)
Images
Above top: Ellie and Jane making love hearts for Valentine's day.
Above: students' work andJasmine making an elephant.


Below: yarn bowls painted at Accrington Yarn & Stitchers.
Left: Needle felted jewellery and Christmas ornaments.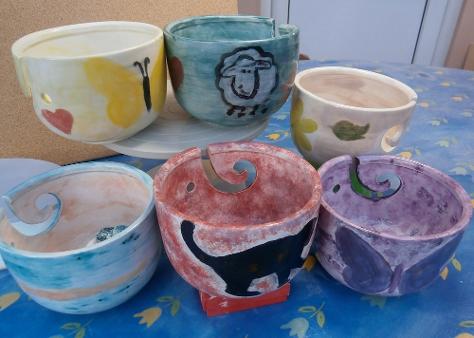 Pottery on a theme - 2018
Fairy house tealight holder - £35.00 (2 sessions)
Thursday 26 April, 10-12.30pm & Thurs 10 May, 10-12pm
Saturday 12 May, 10-12.30 & Saturday 10 June, 10-12.00
You'll make a pretty fairy house to use as a tealight holder following step by step instructions from your tutor. The first session is for making the second for glazing. They'll need collecting after firing.
Other dates/time might be available on demand for 2 - 4 people. Two weeks between making and glazing are needed to allow for drying and firing.
Suitable for 12+ to adult.
£35.00 Tickets
here for Thursdays
&
here for Saturdays
Make a tortoise

Sunday 22 April: 2-3.30pm
£12.50 all inclusive. Discount for multi bookings.
You'll use underglazes to add some colour to your creation, and I'll put a coat of clear glaze if required.
Suitable for 5+ Free for adult helpers.
Tickets here.
Make a small pet bowl (11 or 14 cm diameter)

£25 (2 x 90 minute-sessions)

Saturday 26 May, 2-3.30pm & Saturday 9 June, 2-3.30pm
Tickets
here
Thursday 28 June, 10.30-12pm & Thurs 12 July, 10.30-12pm
Make a ceramic Rooster - £40.00
date TBC or contact me if 2+ interested.

10.30am - 3.30pm, bring your own pack lunch, hot & cold drinks and nibbles provided.
£40.00 including material and firing. Suitable for 16+
Note your work will not be glazed. Can be painted with acrylic paints or book a glazing session £15.00
Mini sessions - £6.00 - 1 hour


All inclusive except glazing (optional). Suitable for 5+ date TBC, or contact me for groups of 3 or 4.
Taster session during which you'll try one or more hand building techniques (no potter's wheel). Suitable for all ages children and adults alike. 5+ Free for adult helpers. 5 maximum per slot. Can be only booked once per person.

NB. If 2 of you or more are interested in any of the
workshops, I can schedule one just for you. Minimum 3 for mini sessions

Other themes
Vases, mugs or pen pots: slab work with a tube - 2hrs

Coiled plant pots

House number plaques

Paint your own yarn bowl or Piggy Bank

During regular sessions, or private session for 2-4 people £16.00 per bowl/bank. Approx. 1.30-2 hours