Tariffs for workshops Beginner/Intermediate
4 weeks: £50.00* - 8 weeks: £92.00*
Pay as you go: £14.50*
You will learn various hand-building techniques (pinching, modelling, slabbing, coiling) and make items such as a poppy, hanging ornaments, an owl, a tea-light holder, a snowman, a vase etc. Please note no potter's wheel is available.

Minimum 2 sessions recommended (1 making, 1 glazing).

Advanced

4 weeks: £40.00* - 8 weeks: £72.00*
Pay as you go: £12.00*
(All to book 4 initial sessions at beginner's rate)
*Excluding materials
4 weeks and 8 weeks have to be used within
3 months of purchase.
Days and Times of classes
Wednesday 10 - 12pm
Wednesday 7.15 - 9.15pm
Friday 10 - 12pm
Friday 2 - 4pm
GROUPS and FAMILIES sessions
weekends (mornings) or Thursdays (morning or afternoon)
2 people: £30.00, 3 people: £41.00, 4 people: £50.00
Children under 8 to be accompanied by adult helper. Older children to be accompanied by a participating adult.
I can accommodate up to 5 people, if one person is an adult helper. For bigger groups, I'll have to book a room somewhere.
My workshops are also on
Craft Courses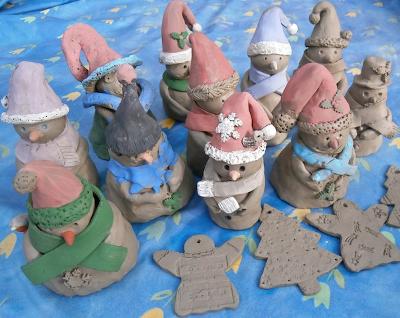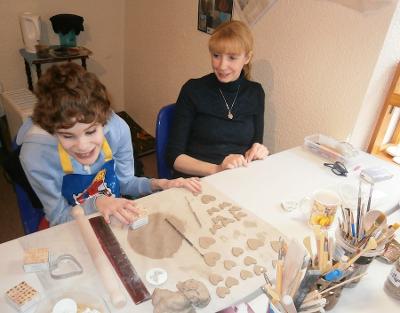 Arts and Crafts Sessions 2017
£12.00, except glass fusing, £16.00
All included, refreshments provided.


Yarn Bowl Painting:
Saturday 6th May, 10-12
at Accrington Yarn and Stitchers, 11 Warner St., Accrington
Acrylic Painting (landscape):

Sat 20 May, 2-4pm or Mon 22 May, 10-12
Needle felted sheep:
TBC
Card Making:

Mon or Sat TBC

Glass Fusing (pendant or brooch):

Mon or Sat TBC


Watercolour painting (landscape):
TBC
Needle Felted Jewellery:
Also Check
Craft Courses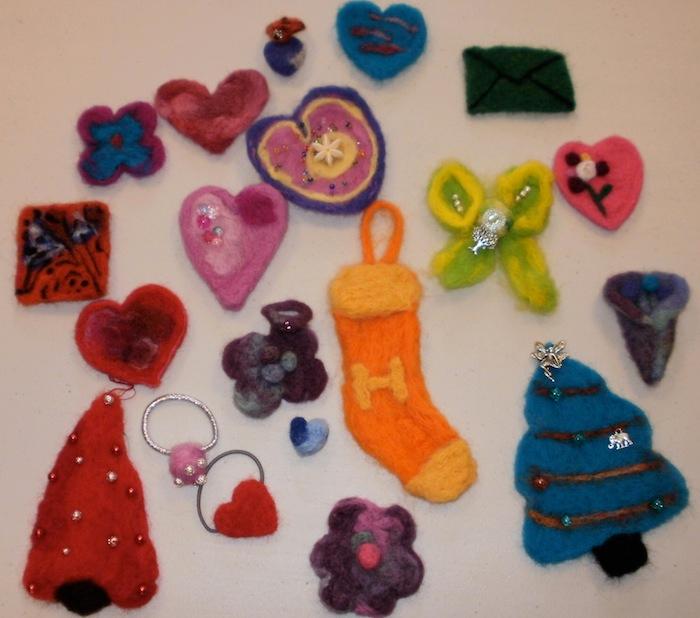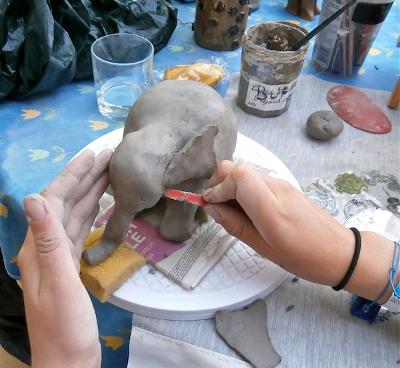 Above: needle felted jewellery and Xmas ornaments and Jasmine making an elephant.

Left: the snowmen made during the half term workshops, and Ellie and Jane making love hearts for
Valentine's day.

Below: yarn bowls painted at Accrington Yarn & Stitchers